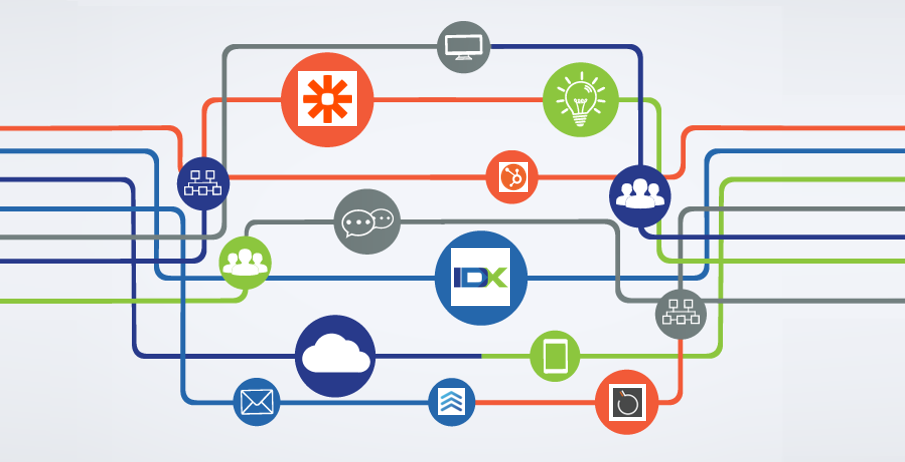 If you're already using the lead capture tools in IDX Broker, you know how powerful they can be. With our adjustable settings, the keys are in your hands. You can gain further flexibility by choosing the CRM (Customer Relationship Management) that works best for you.
With the launch of our full integration with Zapier's workflow automation software, you can connect your IDX Leads to over 40 CRM applications, including Salesforce, Follow Up Boss, BombBomb and more.
What is Zapier?
Zapier (rhymes with "happier") is a tool that helps anyone connect apps and automate workflows – without any complicated code! Simply sign up for a free account and connect APIs (Application Program Interface) with no coding at all. Set up is simple:
Click the Make a New Zap button. In the Trigger Service dropdown, choose IDX Leads, and choose New Lead as the trigger.
Then click the Save + Continue button.
In the Action Service dropdown, choose a CRM service to send your IDX Leads data to.
How does it work?
A "Zap" integrates two apps through its Zap process. It is simply a trigger and a corresponding action. The IDX Broker/Zapier integration ensures lead capture is efficient and effective. IDX Leads will check your IDX Broker account for new leads every 15 minutes. Duplicates are automatically excluded and you even have the option to increase the refresh time by upgrading your Zapier account. We also offer "Zap templates" already created with popular CRMs which can be found in our Knowledgebase.
The best apps. Better together.
With IDX Leads, your CRM automatically has the data to power your follow ups, agent assignments, drip campaigns, and tons of other features. Plus, whether you're a single agent or part of a large brokerage, with so many CRM connections available, Zapier has lead automation for everyone. Simply choose the CRM that works best for you, create a Zap, and become a lean, mean, lead nurturing machine!