We are fast approaching 2021 (thank goodness!), getting ready for Q1 and a fresh new season of webinars!
We had a jam-packed year of live and recorded webinars full of takeaways, tutorials and best practices. Our hosts covered a range of topics including Google tools, lead generation tips and of course, your favorite IDX home search and websites! Thank you to each of our IDXperts who shared their experience and expertise!
Without further ado, we present IDX Broker's Top 5 webinars of 2020: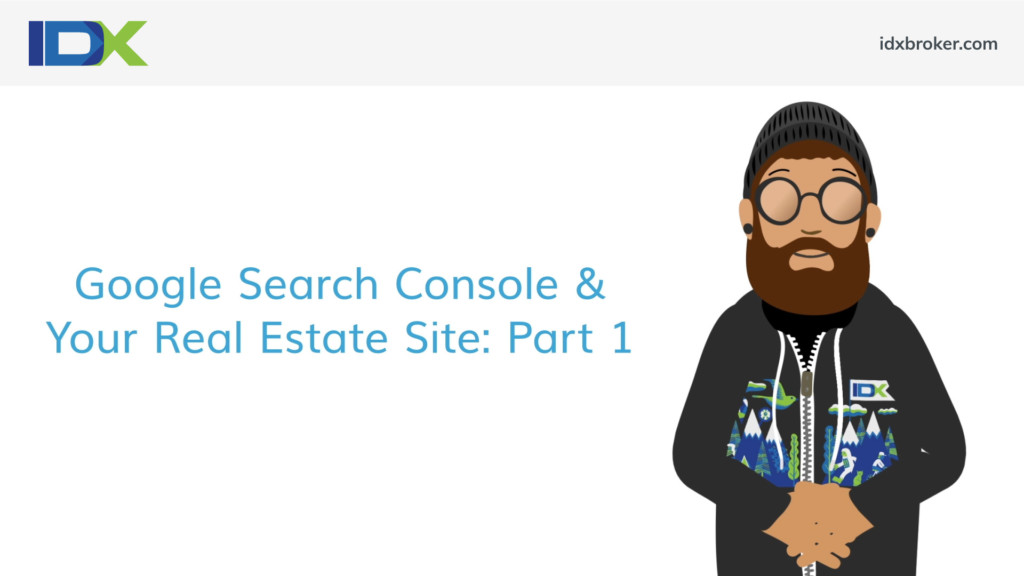 Google Search Console & Your Real Estate Site (Part 1)
At IDX Broker, we get asked about SEO… a lot. The answer to all your SEO questions (and more) can be found with our Google Search Console webinar series! This was our first-ever recorded webinar – something we will definitely be doing more of in 2021. Recording (and thus editing down) our webinars allows our team to pack tons of valuable information into bite-size pieces.
In this webinar, our resident Marketing Analyst Bishop wastes no time and dives in at :35. He briefly explains what Google Search Console is (a free suite of tools that helps you monitor how your site performs in Google Search results) before showing you exactly how to get started with your setup at 1:25.
From there you can follow Bishop's step-by-step instructions for adding and verifying your website in Google Search Console, and creating and submitting your site map! 
Here are some key takeaways:
You need a CNAME (a Canonical Name Record). A CNAME ensures that when a visitor comes to your site and searches for homes, the url they're going to is your url and NOT IDX Broker's.
Google Search Console sounds intimidating… but it isn't! It's free and easy to set up.
 Creating and submitting your sitemap is simple if you're an IDX Broker client! Explained at 3:16, the sitemaps (both Text and XML) for your IDX pages are automatically created by the IDX system and include categorized links that lead to all of the active listings from your MLS.
Watch it now: Google Search Console & Your Real Estate Site (Part 1) or read the full blog post.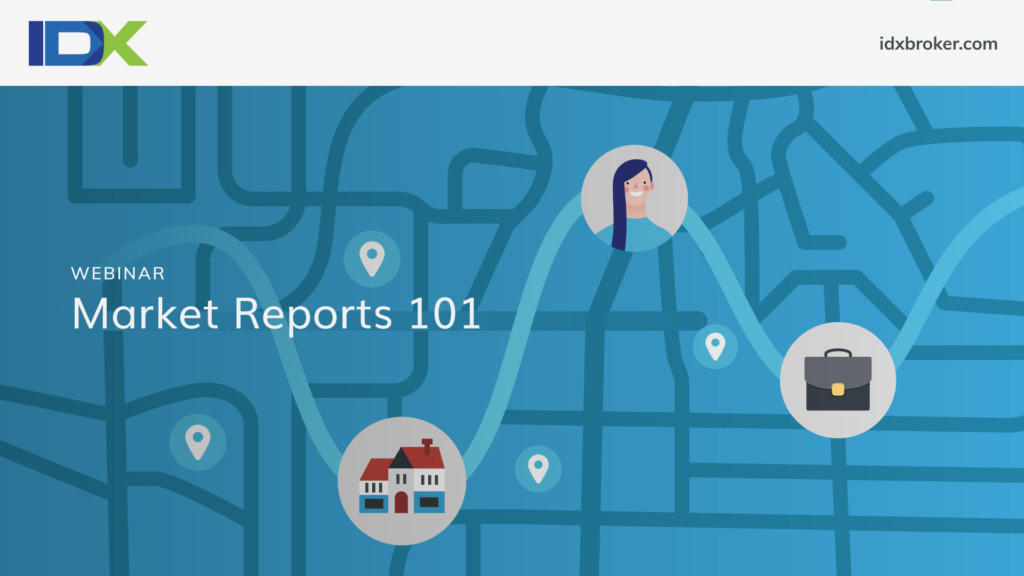 Market Reports 101
Being known as THE local expert is a cornerstone of success for top agents. With that in mind, this year we added a new tool to the IDX Broker toolkit – Market Reports. Now, if you haven't already incorporated IDX Broker Market Reports into your lead engagement and nurturing strategy, then this webinar is one to watch!
At 3:55, IDXpert Jeff delves into your IDX Broker dashboard with instructions for adding Market Reports to your real estate site and for including them on community pages. He also demonstrates how My Listings Manager and Sold Data maximize Market Reports to their fullest extent.
Bonus: if you're already using Market Reports and are wondering how to further incorporate them into your Marketing Strategy, check out the second webinar in this series: Market Reports 201.
Takeaways:
If you're an IDX Broker Platinum or HOME client, Market Reports is already included in your account for free!
The mobile experience is awesome. Combined with the new My Listings Manager – saving properties, searches, and now Market Reports is easy and intuitive.
Market Reports are even more powerful with Sold Data. Your leads and visitors can view a new map with up-to-date list and sold prices, plus sold dates and property details.
Watch it now: Market Reports 101
Please note: This webinar includes outdated pricing. Sold Data is now included in all Platinum & HOME accounts.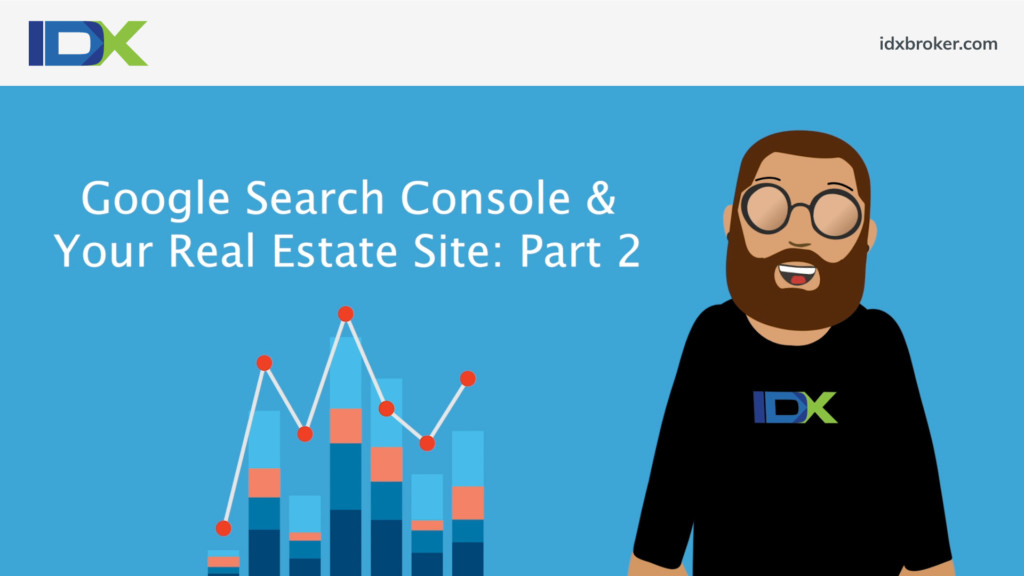 Google Search Console & Your Real Estate Site (Part 2)
In Part 2 of the Google Search Console series, Bishop explores what to do with your Search Console insight once you have it. It's worth noting, the second part of the Google Search Console series is a little more technical than the first.
If you watched Part 1, you know Google Search Console helps you understand how you stack up in Search Results. But, if you're not stacking up so well and need to make improvements, how do you know which improvements to make? That's where Reports come in! Bishop begins his explanation at :37 with the Sitemaps Report. Throughout the webinar he breaks down the uses and value of the Index Coverage report (at 1:02), the URL Inspection Tool (at 3:16), the Performance Report (at 5:38) and finally the Overview Page (at 8:47).
Key Takeaways:
Check the summary page of the Index Coverage report every once in a while. Your Valid pages trend should remain steady with a gradual increase as your site grows. If you see drops or spikes, it's time to troubleshoot.
The URL Inspection tool is one of the most important in your tool box, so use it often!
If nothing else, every month or so, you should take a look at your Search Console Overview page. This is the simplest way to get a quick, yet comprehensive, health check on your site. Use your overview page to see a summary of the most important data mentioned above, including performance, index coverage and enhancement metrics.
Watch it now: Google Search Console & Your Real Estate Site (Part 2) or read the full blog post.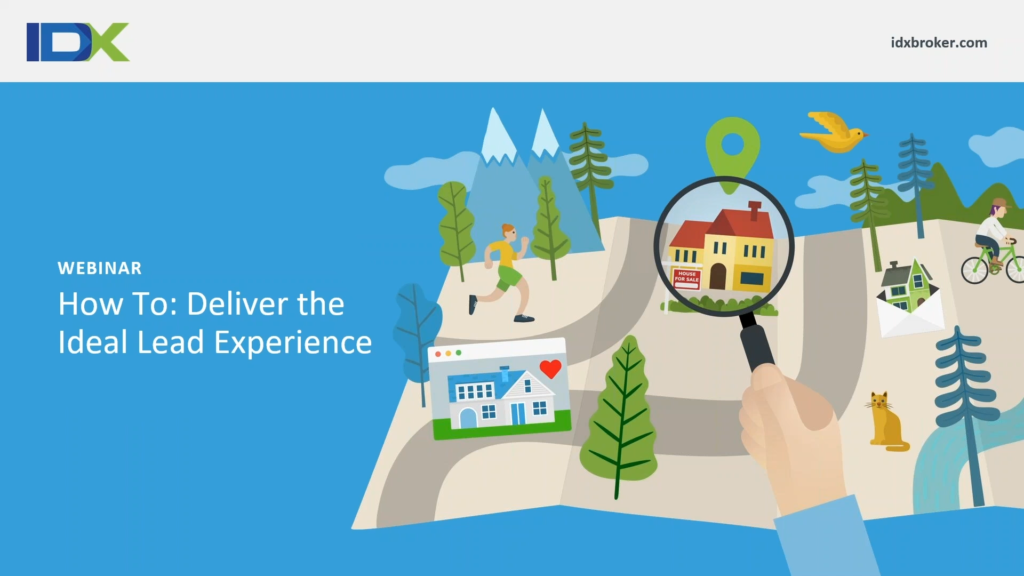 How to Deliver the Ideal Lead Experience 
Offering a good lead experience is the single most important thing you can do to keep home-browsers returning to you – and your website – when looking for a new property. In this webinar, Bishop walks you through a number of IDX Broker features, which when combined, create the most effective home search experience
Bishop begins with Omnibar Search at 1:05. This webinar explore the benefits and value of specific features (versus showing you step-by-step instructions), so if you're looking for instructions on exactly how to recreate this experience on your site, be sure to head to the knowledgebase.
If you already have a well-functioning site, optimized for your leads and user-flow, and are just looking to make a few updates, jump to 4:55 where Bishop explains the newest tool in the IDX Broker toolkit – Market Reports.
The key takeaways from this webinar:
Think of the user experience (UX) as a critical, preliminary step in your lead generation strategy.
Monthly Market Report emails are a great way to stay top of mind with leads who aren't quite ready to take action yet.
The elements of the ideal lead user experience are:

An intuitive, simple search with Omnibar.
Interactive, professional search results pages with Home Atlas or HOME Studio.
Engaging and beautiful details pages with Listing Pro.
My Listings Manager – a singular location for leads to save and review their searches and properties, and the dedicated hub for you to view your leads' activity.
Market Reports and AI-driven emails based on leads' browsing behavior and favorite listings.
Watch it now: Offer the Ideal Lead User Experience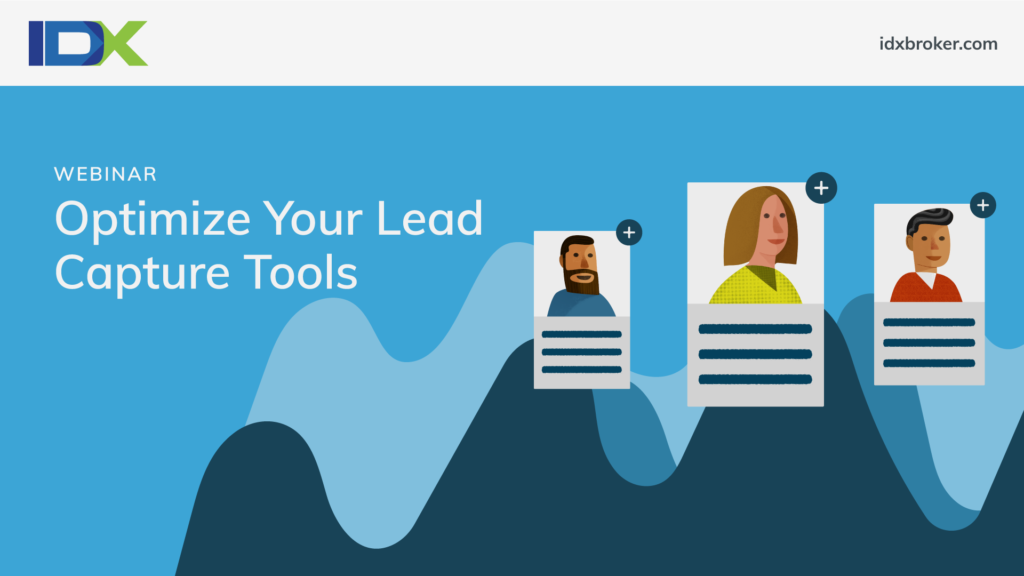 Optimize Your Lead Capture Tools 
In one of our last webinars of 2020, Support expert Matt walks you through our favorite lead capture features before diving into best practices and more advanced techniques. This webinar is perfect for clients who are just getting started with IDX Broker, as well as those who have been around for a while and just want to make sure they're using their account to its fullest potential.
Matt gives easy-to-follow instructions, clicking between the IDX and WordPress Dashboards, covering roughly 15 topics! He explores the different lead capture opportunities on your site, before diving into Lead Registration rules and settings at 9:22.
Matt discusses the benefits of My Listings Manager for the lead and for you (the account owner), showcasing your unique lead insights at 14:38. He also demonstrates how to leverage this insight with AI-driven communication such as behavioral-based emails at 17:03 and monthly Market Report emails at 21:05.
Takeaways:
Use social logins! It's not only easier for visitors to log in with Facebook or Google, it's also easy for you to capture higher quality leads. Your leads can sign up for property updates and save searches with the social accounts they already use every day.
Give your leads a head start with their market reports by building one based on their saved searches. They'll get an updated market report email every month!
Directly market relevant listings to any active lead with our automated behavioral-based emails – even if they don't have saved searches or properties. Our similar properties email feature offers comparable properties for your leads' "favorited" listings based on price, zip code, status and more!
Watch it now: Optimize Your Lead Capture Tools 
We hope you enjoyed the top 5 IDX Broker webinars and had the chance to learn something new. See you in 2021!