Lists are great and, especially this time of year, everyone is making them and checking them twice.  Checklists remind you of things that need to be done and they provide a sense of accomplishment when one is able to check off an item. We want using IDX Broker to be as easy and profitable as possible. As we close the year, here is a quick checklist of videos that should help you tune up your real estate website and avoid the naughty list.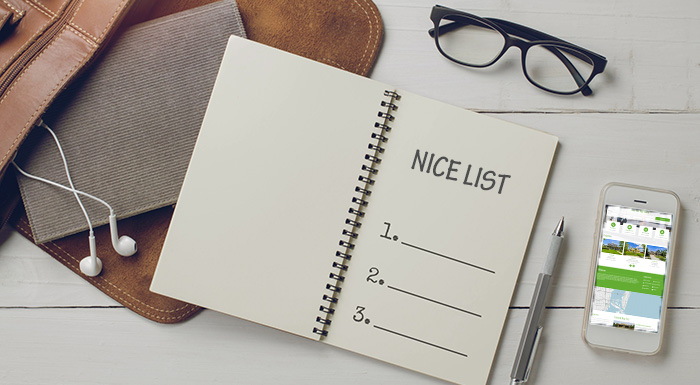 Navigation Overview
The first thing to check off our list is navigation, because nobody wants to get lost. If you are new to IDX Broker, this step will quickly help you feel at home with the interface. If you are a veteran, you can brush up on some of the pages that you may not visit on a regular basis.
When to Use Widgets or Pages
One of the big questions that our support team gets is when to use each of the options available to show your listings. It's not quite the same as deciding between a toaster oven and a spa treatment for your wife's Christmas present, but it's close. Widgets and pages can both show property information, but they each have situations where they shine brighter than the other. Get to know when to use a page or when creating a widget will be your best course of action.
Create a Saved Link
Okay, so now that you've used your new found knowledge to decide on creating a saved link, what is the next step? Here you can learn one of the basic concepts in IDX Broker. Build out neighborhood pages and predefined search results with a saved link.
Manage Custom Location Lists
There is a lot of information that IDX Broker provides to each of our customers. If your MLS straddles multiple states or even contains a wide geographical location, you might not want to showcase all those properties. Unlike some people, you probably lack the ability to visit every house in a single evening. Fortunately you can limit the cities, counties, and postal codes that visitors can search on your site. Watch this video to limit your location lists.
Set Dynamic Detail SEO
Now you're on the right track to a beautiful and functional real estate site, but you're not done yet. Drive traffic to your property listings by increasing your ranking on search engines. This quick tip can get you more unique content that homebuyers are seeking.
Set Lead Registration
Now that you have traffic to your site, convert those visitors to leads. Right out of the gate you need to set up your lead registration settings to find out what people are searching for and help them find the perfect property.
These tips should help your website work a little harder for you so that you don't have to, so enjoy your family in this season and try to take some well deserved rest. Check off these items and stay on the nice list for a great end of the year and an even better 2017.