It's that time of year again when the leaves are turning, dew begins to settle on the outfield grass, and the temperatures start dropping – which means another IDXPerts softball season has come to an end.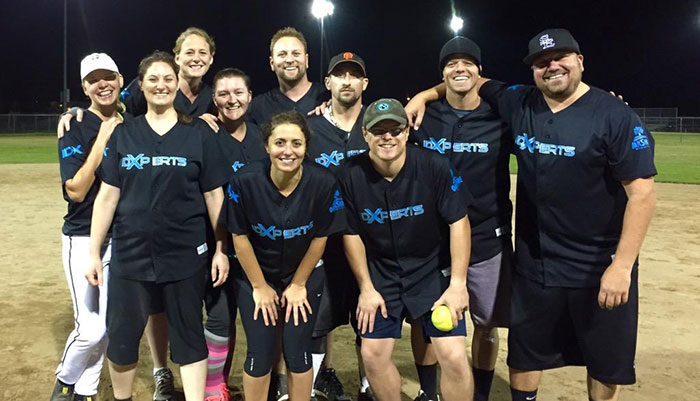 Get to Know the IDXperts
IDX Broker's coed company softball team (known as the IDXPerts) is going on 6 years now.
Our team consists of employees, their spouses, and the occasional friend to fill the team.
Playing softball together has been a great way for co-workers to get to know each other outside the office.
Our team ranges across all levels of experience. Some have never played a game in their life, while some purely love the game and even play competitively. No matter what a player's experience level is, we all play.
Put Me in Coach!
Whether we have 8 players or 16 players show up to a game, we count that as a win!
To be clear, we're a pretty competitive team. Although, there have been games where it looked like we'd never played in our lives.
We may not always grab that easy pop fly or that slow grounder in the infield. And sure, sometimes a simple throw winds up in the outfield or demolishes the fence behind first base.
But! On that very next play it looks like we should be walking onto Wrigley Field. We're known to make diving catches in the outfield and a double play in the infield. We've even had a few plays where we relayed a throw from the back fence all the way to home plate, throwing the runner out.
No matter what happens, we encourage each other and we all have a good time!
Crank Up the Tunes
When the IDXPerts roll up to the playing field, you'll most likely know because of the house jams blasting from a portable speaker.
Often, we'll hear the other team say something negative about how they don't like having music blasting from our dugout. Yet, those teams are usually the same teams we see bouncing to the beat in the outfield, or complaining when the music shuts off because of an incoming phone call or text.
Win, lose, or draw – we end every game with a pep talk from our very own Bubba!
He makes sure we all walk off the field in the same mood as when we walked on- with our heads up, having a good time.
Here's to our seventh season, IDXperts – looking forward to it. Cheers!