Like you, we like to save money and ensure that this world is here for our grandkids. Here are a few easy steps to help you save some green and some greenery.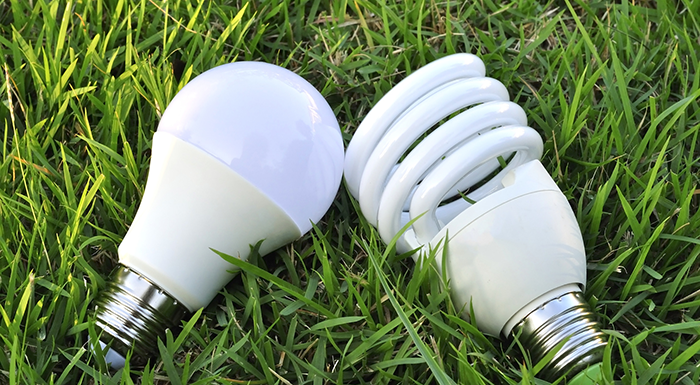 Go Green and Save Money
After being named as one of the top 100 green companies in Oregon, we feel like it's time to share the wealth.
Here are a few useful tips to help you cut energy use at the office, and a few to help your clients cut costs in their new home.
Perfect Timing
Keeping rooms at a constant, steady temperature sounds like a great thing – until you're not home, or you're sleeping.
Save energy and increase the value of your property by installing a programmable thermostat. Don't waste money heating up empty spaces or waking in the middle of the night to adjust the temperature in your bedroom. At the office, program your thermostat so temperatures drop over night and start heating up an hour before folks start showing up for work.
Over the long term this translates into big savings in both energy and money.
Bright Ideas
You've heard it before. Switching away from incandescent lighting and toward LED lighting can save you a lot of money. According to Energy.gov, you can save almost $4 in electricity per year, per light by making this simple switch. That adds up quickly, especially when you take into account that LED lights can last 25 times longer than their antiquated predecessors.
Unplug
Did you know that electronics draw power even when they're off?
That's right. Even if you haven't turned them on, your TV, DVR, and other devices all use power. The same goes for your coffeemaker with a clock or LED ready light. Even some toasters burn up electricity while waiting to be used.
If you aren't using your computer or other electronic devices, simply unplug it from the outlet or turn off the power-strip. Want to get high-tech about it? Look into using newer power-strips that automatically cut power to devices when not in use.
Dress for Success
Dressing warmly can allow you to adjust the thermostat a couple degrees up or down without taxing your heating system. In the winter, pull out the warm flannel pullover and layer up.
For the office, allow the dress code to relax a little when the weather is warm. Leave the suit and tie at home in place of a cooler, lightweight polo.
Save money and make a more comfortable work environment all at the same time.
A Taste of Savings
Consider trying to find the most efficient way to cook that next dish.
If you're just heating up water, try the microwave or the hot water tap. Cook small items in a toaster oven, instead of using the whole stove.
Use the range burner that best fits your pan to avoid heating more surface area than necessary. Turn burners off a little earlier than you normally would. They'll continue to emit heat as you wind down the cooking process. If you're baking, the oven is already producing a ton of heat.
Consider turning down the temperature in the rest of the house and hanging out in the kitchen. This will reduce your energy and possibly even increase some family bonding.
This list contains just a few of the many ways you can save money at home, and the office, while looking out for mother nature.
We're always open for fresh ideas, so if you have any great ones, share them with us on Twitter.