IDX Broker is proud to be ranked as one of the best medium-sized businesses to work for in Oregon!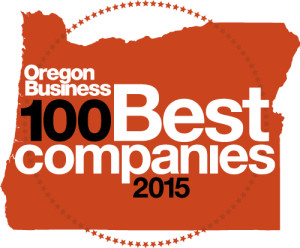 We know how to work hard – and play harder. We're a team of rockstars!
IDX Human Resources Manager Celeste Marshall had this to say, "We make it a priority to ensure our employees are happy and thriving in the workplace. This is ultimately what makes our business succeed."
Survey answers from each of our 40 employees were tallied up to give a total score of over 512 points! See the list here.
To arrive at this list of 100 companies, Oregon Business measures employee opinion on 20 workplace practices. Employers also answer a questionnaire on benefits. Employees rate their satisfaction as well as the importance they attach to work environment, management and communications, decision making and trust, career development and learning, and benefits and compensation.
From the Oregon Business site:
Massage chairs, foosball tables, free food — these are just a few of the perks that the 100 Best Companies are providing to attract and retain staffers. The survey also highlights the growing desire of employees to work in flat, collaborative workplaces where open communication and shared decision making are the norm.
See what it's like to work at one of the 100 Best Companies to Work for in Oregon:
To learn more about IDX Broker culture, please visit our culture page.