IDX is a proud active member of our vibrant community here in Eugene, Oregon. As we continue to build new relationships, we've also strengthened our partnership with McKenzie River Trust, who protects and cares for special land and rivers in western Oregon.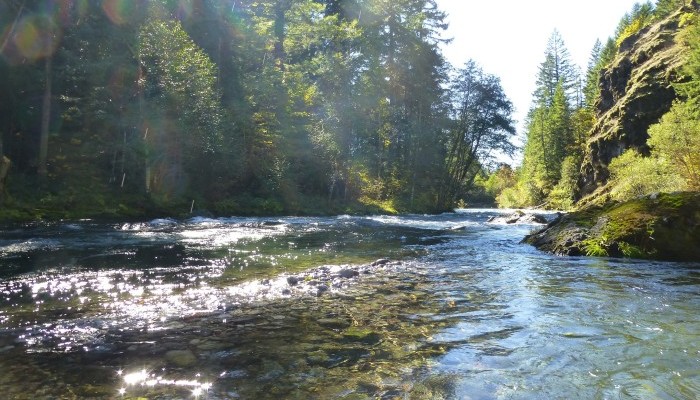 IDX loves giving back. We love it as much as we love having fun! That's why we aim to give back to our employees, our partners, and our community. We even gamified a commuter challenge to benefit our partners, McKenzie River Trust.
Sure, parking passes are a perk for all IDX employees. But an entryway filled with bicycles beats a parking lot filled with cars. To make that happen, we decided to gamifiy our  Walk/Bike/Ride commuter challenge like this:
Waive your parking pass for the month, we'll donate $20 to McKenzie River Trust. That's $240 per year for those of you who waive a pass all year!
Waive your parking pass for the month and we'll also draw your name to win a $25 gift card for a downtown vendor each month!
Waive your parking pass for the year and you'll be entered to win a grand prize (no, it's not a Prius) at the end of the year!
Encouraging different forms of transportation has helped make our employees happier and healthier. But we're also proud to say it's helped McKenzie River Trust. This vital local organization is committed to protecting our precious waters and special lands.
IDX has been supporting their vision in 2015 by
1st Quarter – 39 parking passes waived
2nd Quarter – 38 parking passes waived
3rd Quarter – 42 parking passes waived
4th Quarter – TBD
That's over $3000 we'll raise for our friends by the end of the year.
Joe Moll, Executive Director of McKenzie River Trust shares his thoughts,
"I know that people with great tech skills can live just about anywhere they want right now. When I think of all the IDXperts that chose to build a business here because of quality of life we have, it makes me that much more energized and committed to conservation projects that keep our waters clean, our parklands accessible, and our natural lands healthy.

My morning and evening bike commute clears my head and reminds me of how lucky we are to live here. To think of our friends at IDX taking a similar approach to the day and then actively supporting the work of the McKenzie River Trust by their commuting choices just makes me smile and feel that much more fortunate!

I look forward to the day when thoughtful tech work and creative approaches to land and water conservation are so braided into what we consider community development that they don't have to be called out as separate efforts. I think our partnership with IDX and others in the Silicon Shire is a strong step in that direction."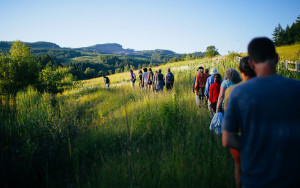 Local brewers hiking on MRT's protected lands, seeking inspiration for new brews using native ingredients. Photo by Trask Bedortha.
We're glad to be a supporting partner of that vision. IDX is proud to build this partnership, and many more, as we continue to expand from our home, here in downtown Eugene.
If you'd like to connect with McKenzie River Trust, join them at the Bier Stein on November 5th from 5-8 pm and taste locally inspired brews  Event details can be found here.