Hands down my favorite time of year! Sorry, let me back up a little bit...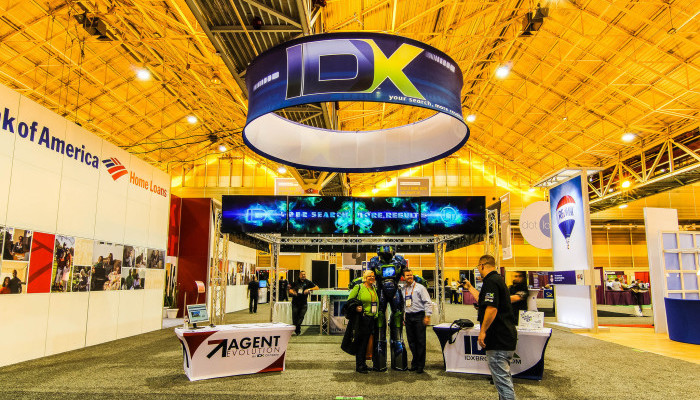 IDX Gearing Up for The Big NAR Annual
Here in Eugene, Oregon, we're blessed to experience each and every season the year has to offer. Unlike other parts of the country, we have a real spring, hot summers, and yes…very wet winters. But we also have a true autumn!
This small transition between summer and fall seems to happen in September and October around here. Along with being the most enjoyable days of the year (80's during the day, 40's at night), autumn also brings along with it some of my favorite activities.
As a big fan of NCAA Football, and most importantly the Mighty Oregon Ducks, these months mean football. Saturdays become all-day extravaganzas in themselves!
This is also the time the kids go back to school. For some, it's a time to get deeply involved with kids' sports activities. In my house, after a loooong summer, this is something we look forward to every year.
Along with all the beautiful weather and seasonal activities, autumn is the time we start focusing our attention in the office on the National Association of Realtors Conference and Expo.
IDX First Experiences NAR Expo in 2008
For those new to the industry, the NAR Expo is the largest and most highly attended event of the year.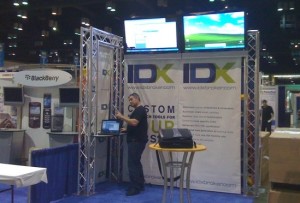 The conference has been rotating through different host cities – such as, Orlando, New Orleans, San Diego, and San Francisco – since 1908. Yep, that's over 100 years!
Back in 2008, we sent a team of three on a shoestring budget. They showed up in Orlando with some trusses, a few TVs, some product flyers, and a cocktail table. At the time, this setup was completely awesome (even more than some of the standard 10′ x 10′ pop-up displays).This would set the standard for our presence at NAR for years to come.
Since that time, our company has grown dramatically – and so has our presence at these events!
IDX Booth Presence at NAR Annual Continues to Grow
If you've been to NAR in recent years, you know the exhibit floor is something to behold.
Booth construction starts days before the doors open. For many companies, preparations begin months before!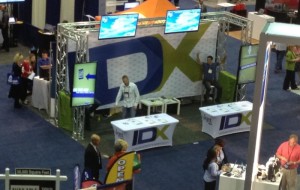 For IDX, that time is autumn. It's been the same way, for me personally, each year for the past 4 years.
Just like in years past, our presence will represent our continued growth. Check out Agent Evolution's photos from NAR 2014.
What started as a 10′ x 10′ space and a three person product-pitch trip is now a full blown production.
The IDX Booth Experience For NAR 2015
This year's booth is complete with a massive 20′ x 20′ structure, 19 60″ flat screen displays, a DJ powered sound system, 12 IDX staffers, an 8 ft. robot, and of course, those product flyers!
We're also doing something new. We're hosting an exclusive party on Saturday night with our partners Real Pro Systems! The event will be held at an undisclosed rooftop bar in downtown San Diego.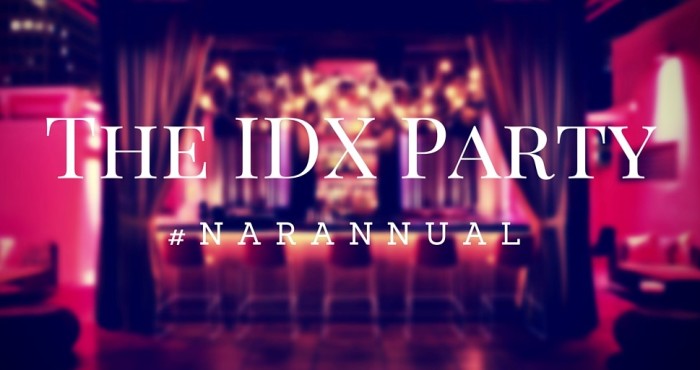 This is our way to say thanks and connect with all of our awesome clients, our great partners, and the many friends we've made over the years.
Join Us in Booth #2931
For all these reasons and many more, NAR has come to represent so much for me. Best of all, I always have something to be thankful for each autumn.
This year's National Association of Realtors Conference and Expo will be held in San Diego, California, November 13th – 16th.  Find IDX in booth# 2931.
I want to personally invite you to stop by, meet the team, get a picture with the robot, and enter to win our awesome giveaway.
But more importantly, celebrate this awesome Expo and this great industry we're all so lucky to be a part of!