Calling all IDX Broker developer partners…want an easier way to troubleshoot? Try imFORZA's new Chrome extension.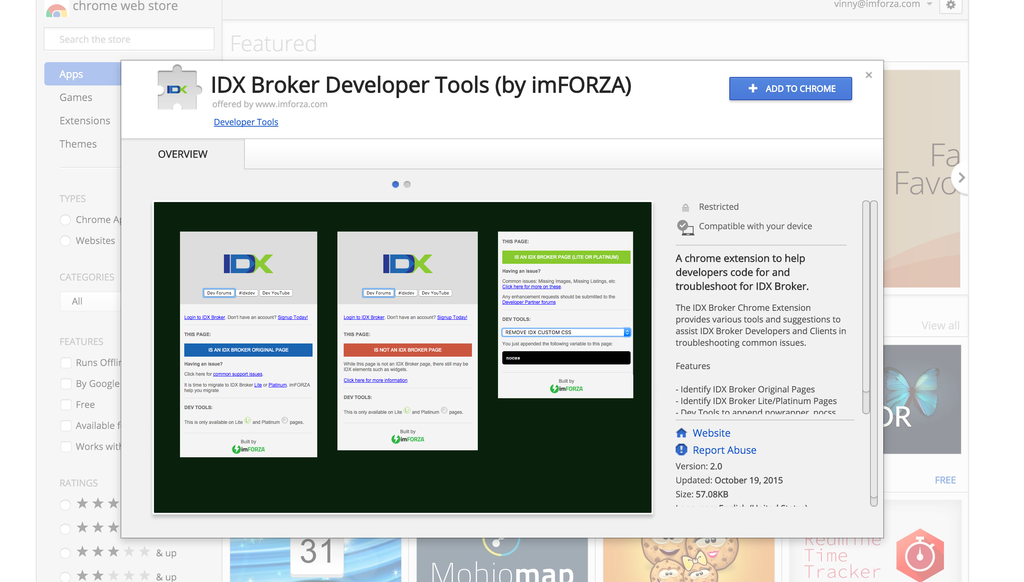 IDX Broker Developer Tools (by imFORZA)
IDX Broker Developer Partners – are you looking for an easier way to troubleshoot real estate websites with IDX Broker integration? Well, look no further – imFORZA's new Google Chrome extension can help. Use this new tool designed specifically for IDX Developer Partners to save time.

This useful tool is designed to save you time by calling out common issues right from the browser.
Not only does it make identification of issues faster than ever, it also provides convenient pointers you can use to start resolving a potential issue.
Make Troubleshooting Easier with this Google Chrome Extension
Even if you're new to IDX Broker, or just getting started using our service, you'll instantly know the most important information you need, including:
Is this an IDX page or not?
Is this an IDX Broker Original page or not?
Is this a Platinum or Lite page?
Vinny La Barbera from imFORZA explains how this project came to be –
"We found ourselves tackling common issues and tasks (e.g. missing images, missing properties, making customizations, etc.), so we decided to find a way to standardize and streamline our workflow. Since Google Chrome is the most widely used browser we decided to build a simple extension that would allow us to perform repetitive tasks with a simple toggle right from Chrome. This extension is still in its infancy, but we've already collected some good feedback from other developers and plan to continue building it out so all developers, not just us, can benefit from its convenience and ease of use." – Vinny La Barbera, imFORZA Founder/CEO

Includes Valuable Resources for Developers
Beyond the troubleshooting tools, this utility also includes direct links to useful resources.
This means you're always a click away from the IDX Broker Developer forums (exclusive to Developer Partners only), the very latest updates from the #idxdev hashtag on Twitter, and a contact form to submit issues directly to the IDX Developer Support Team.
If you're interested, visit the Chrome Web Store to add the imFORZA Chrome extension. This is an open source project, so visit the GitHub repo if you'd like to make a contribution.
[iconbox type="1″ newtab="true" icon="fa-external-link-square" url="https://chrome.google.com/webstore/detail/idx-broker-developer-tool/jhbjpgeadnkpelpjgpgkghpmpfddhdjn" heading="Download the IDX Broker Developer Tools (by imFORZA) extension from the Google Web Store."][/iconbox]