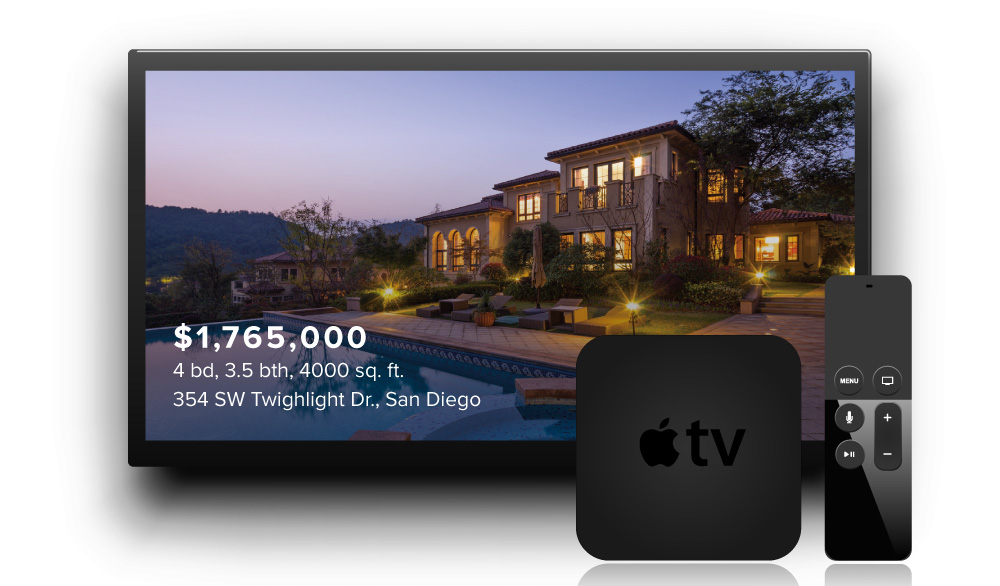 Traditionally, real estate professionals have relied on printed window displays to promote their listings, even though the info can quickly go out of date. You wouldn't want to display inaccurate information on your website, so shouldn't the same go for your storefront? Well, with the help of our new Apple TV application, outdated displays are a thing of the past!
Introducing IDX Featured Listings for Apple TV!
Our new iOS app allows agents and brokers to easily show off their featured real estate listings on any Apple TV-connected display. From your office to your trade-show booth, IDX Featured Listings ensures you showcase the freshest data possible.
Paper window displays not only have a short shelf-life, but they can be a real chore. From the initial setup process to the manual adding and removal of printed listings, all that time adds up. With IDX Featured Listings, all you need to do is install the app, retrieve your 4-digit activation code, and that's it. No custom installation or cumbersome updates required! Your listing data refreshes automatically.  Think of all the time, money—and paper—you'll save!
To sum up, with the IDX Featured Listings app, you can:
Display featured and supplemental listings seamlessly from your IDX Broker account.
Ensure your storefront shows accurate price, status, and listing details with automatic updates.
This app, built exclusively for clients of IDX Broker, will allow for easy installation and flexible usage, setting a new standard for listing display. Agents and brokers will have full control over slideshow speed and can manually enable and disable the display of listings.
IDX Featured Listings is available for free in the Apple TV App Store. An IDX Broker Platinum or Lite account is required for download.