Inman Connect is a conference series organized by Inman, residential real estate's leading news provider. Packed full of real estate innovators and top producers, it's worth braving the late July heat to attend, simply due to the diversity and caliber of real estate professionals in attendance. They're there, ready to listen and learn, problem solve, and of course, connect!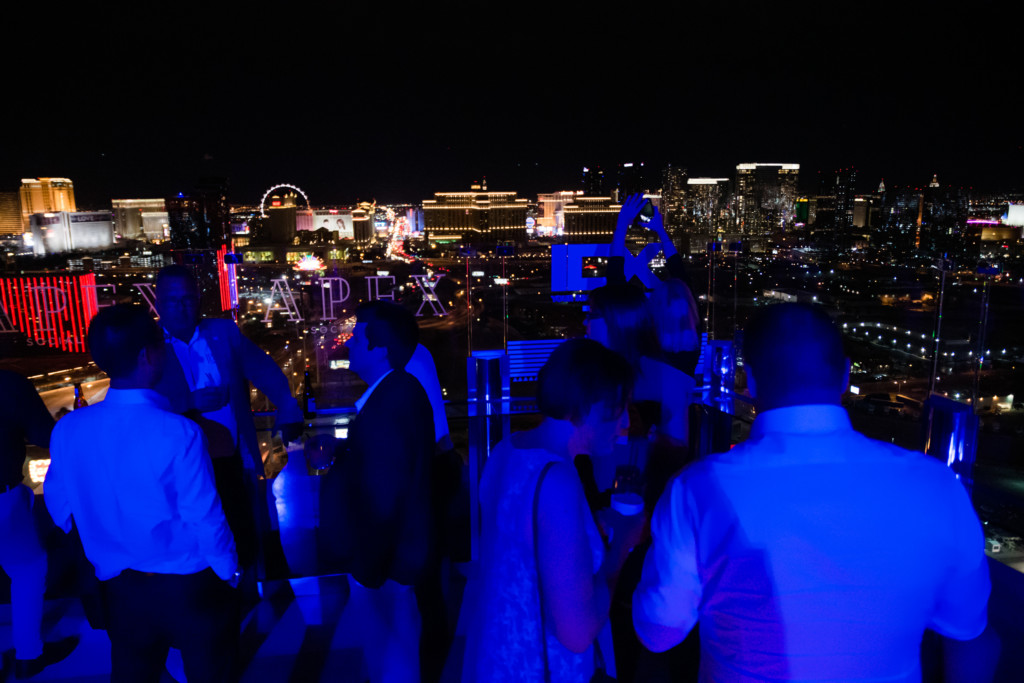 This year, IDX Broker had the pleasure of throwing the first-ever official Inman Connect Kick-Off party. Set atop the Palms Resort and Casino, at the chic, art-drenched Apex Social Club, the event provided the perfect setting for hundreds of ICLV attendees to mix and mingle.
It's always inspiring to meet our clients and partners in person – not only because throwing an appreciation party at such a venue provides the rare opportunity to take in an incredible view (above) – but because it gives us a singular time and location to talk about how we can solve problems, celebrate our shared successes, and discover new ways to grow together!
After the last bottle of champagne was popped and the last picture was snapped, the IDX Broker team debriefed. Here are some of the shared sentiments from the road crew:
#1 The amount of disruption in the Real Estate tech industry is unparalleled… and a lot of those disruptors are at Inman Connect!
In fact, Inman may be the best when it comes to the variety of innovative and collaborative companies it attracts. Real estate giants roll out shiny new prototypes; trailblazing technology is announced and unveiled; startups showcase "what's next" in real estate solutions.
Many vendors make promises of being a game-changer. The problem, of course, is that some innovations will not be able to withstand the test of time. Some are flashes in the pan. But, others are incredible, cutting-edge – sure to fill a void in today's market.
It's hard to know which innovators will bring the "next big thing" to the showroom floor, and eventually, the real estate industry. But whether or not the tech sticks around, one thing is for sure – there's a ton of innovation at Inman Connect and we're glad to be a part of it!
#2 Deciding who to approach (and connect with) can be tricky. But, if you're in the market for a true partnership, be picky and think long-term!
Just because it's ICLV doesn't mean "what happens in Vegas, stays in Vegas." A successful partnership will offer benefits far beyond the week of the conference.
With so many motivated real estate tech companies in one place, ready to talk shop, the energy is palpable. It's hard not to get carried away – swapping business cards and attempting to forge connections with everyone you meet. But it's important to be evaluative.
Is the company simply looking for a sale – one and done? Do they just want access to your users? Or are they looking to partner with the purpose of growing together – do they share your values?
At IDX Broker, the latter is how we've chosen our partners (many of whom were at Inman)! We value innovation, being customer-centric and highly supportive. It's no coincidence – our partners are the same.
#3 IDX Broker has the best Developer Partners. We're happy to have grown with them over the last 15 years.
Our Partners work with us to create great customer experiences. We provide a platform flexible and powerful enough to act as a foundation for growth, and they extend the limits of what's possible with their integrations. They check off both boxes mentioned above – they're innovative and they share our values!
From CRMs that are building on (and with) the IDX Broker API to boost speed-to-lead, to reputation marketers who will make you stand out within (and far beyond) your sphere, all the way to WordPress website companies that simplify and reduce the effort in making a website dominate in SEO – it's hard not to be inspired by all of the solutions that they've created!
At IDX Broker, we focus on developing the tools and technology needed to spark and accelerate client growth. When combined with our Developer Partners who share that same focus, we push the limits of what an IDX platform can do!

We want to extend a special thank you to our partners and clients who joined us at ICLV 2019 – Agent Reputation, RealtyCandy, WiseAgent, AgentImage, Zapier and many more.  We know we have the best partners and clients around!