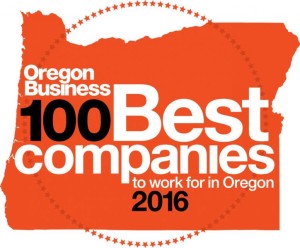 Keep your employees happy and they'll keep your customers happy.
It's a simple concept, but it's one that can be quite difficult to achieve.
It's also a concept that IDX believes in, and one we strive for on a daily basis.
That's why we felt accomplished when Oregon Business magazine named us as one of "The 100 Best Companies to Work for in Oregon 2016".
To receive this award, employees had to go out of their way to share exactly why they love coming to work. Imagine that – loving to come to work!
How did we get employees to love it here at IDX? By providing a positive work environment where team members feel their ideas and efforts make a difference. We also regularly acknowledge those who are making a difference.
We aren't all work and no play. Not by any means. To keep team morale high, we offer catered meals each week, video games in the break room, and company-issued Nerf guns for the most epic office battles in the great state of Oregon.
We appreciate our employees, and we're proud of creating a workplace that enriches their lives. We know their happiness translates into great customer experiences – and happy customers.
Give us a call. We think you'll love working with IDX as much as our employees do.