At IDX Broker, our motto is "work hard, play hard" – and we've done a lot of both this summer. Over the last few months, we attended Inman Connect Las Vegas where we met hundreds of our partners and clients, we threw a rooftop "House Party" for the official ICLV Kick-Off event, and back at HQ we kept busy with our (many) intramural sports teams… as evidenced on our Instagram.
But, in addition to playing, we've also been working really hard!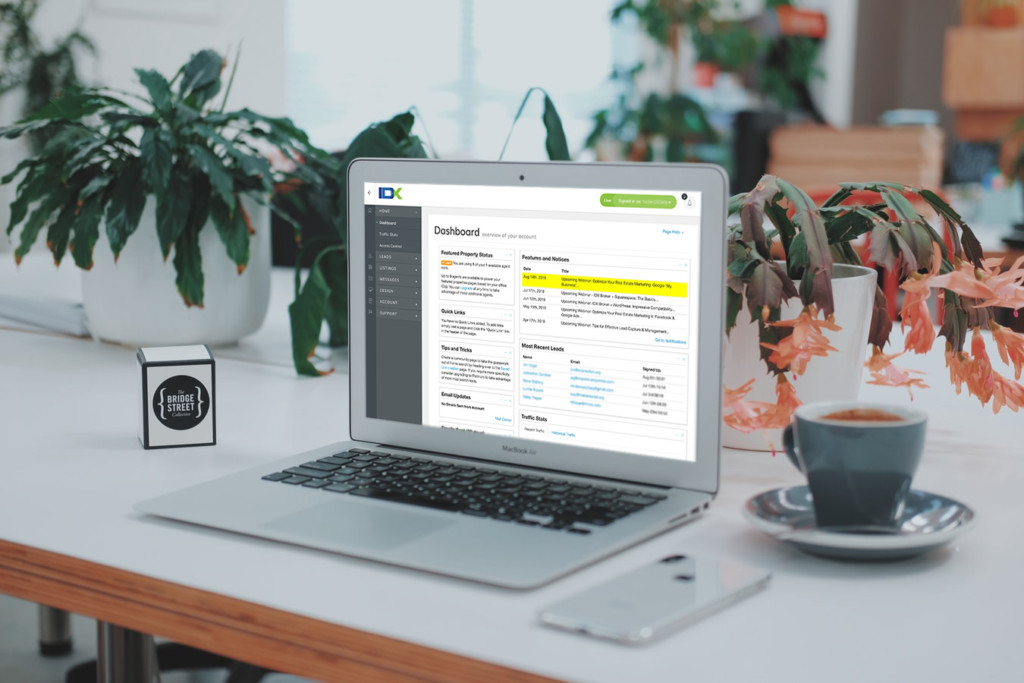 Heading into Fall, here are FOUR NEW FEATURES to take note of:
1. Our New User Interface

Okay, this may have come out in the Spring, but it's still relevant. With the idea that your dashboard  powers your easy, clean and efficient client-facing design, the new default IDX Broker "look" is a step towards a more uniform, modern, simple UX. You can read more about it in our Dashboard blog post. But, one of the most notable changes is worth mentioning again here…
Important announcements now reside under the Notifications bell at the top right-hand corner of your dashboard. Be sure to open and view these alerts so you can see what we're up to, whether it be a new Sold Data set, an upcoming webinar, or a cool new feature (like the ones mentioned below)!
2. New Email Template Design

Speaking of a clean, unified look…. Our new enhanced lead email design offers prospects a modern, streamlined and cohesive user-experience. When your visitors save searches or properties, they'll receive emails designed to complement My Listings Manager.
The new design looks great out-of-the box and features a more deliberate CTA designed to encourage higher website engagement! Not to worry if you previously customized your templates – the new default template won't overwrite your work.
3. Behavioral-Based Emails

Another new feature that was recently added to the IDX Broker toolbox is the ability for any Active (eg. verified & unverified) leads, without saved searches or saved properties linked to their account, to be sent emails related to their IDX Broker page activity!
As a result of these behavioral-based automated updates, you may have noticed that email open rates are on the rise! Nearly ONE THIRD of leads have saved a property recommended to them via an IDX Broker subscriber update. Providing relevant information sparks more interest; hence, the surge in engagement.
4. Similar Properties

And while we're on the topic of emails, similar properties are now included in email updates! This new enhanced lead email feature offers up to four comparable properties for your leads' "Favorited" listings (vs. Saved Searches and listings which match the saved criteria). Similar properties are determined based on parameters such as price, zip code, status and more!  But that's not the only place you'll find "Similar Properties." You'll soon find them included in newer versions of our details pages.
Of course, you're also in control of how you want to leverage these features. Check our Knowledgebase for more information.

Bonus – Coming Soon! 
5. 'Listing Pro' Template
That's right… A new details template is on deck! This new design hasn't been officially released yet, but it's coming soon. Once again, you can expect a clean, modern UX, designed to match your slick new emails and My Listings Manager. Be sure to check the "Alerts" in your Middleware dashboard for more details on the official launch!