Bringing home the sale takes a personal touch. After all, buying a home is often the largest purchase decision we make in our lives. When it comes to a real estate-based relationship, buyers need a little hand-holding and a lot of trust. Here are five tips real estate agents can use to establish that trust – and continued business – with your leads.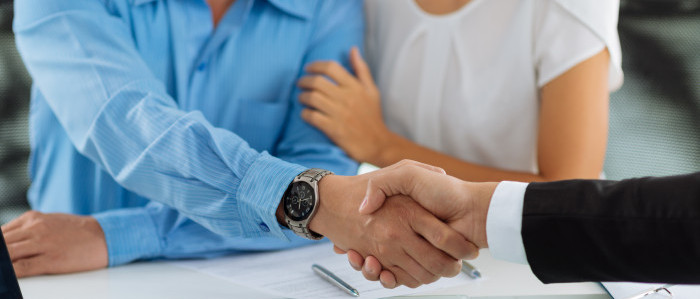 Reaching through Technology
In this age of high tech communication, there are so many different ways to connect. In the past, one's influence was limited to primarily face-to-face interactions. Now, instead of talking to a dozen people in a day, we can communicate with hundreds with a single update.
Communicating through so many channels – email, phone, texting, blogs, tweets, status updates – can make it harder to truly connect. When it comes to closing deals or developing long-term business relationships this can be an issue. To make a lasting connection, let your personality shine through.
1. Don't Lose the Personal Touch
According to a global survey, the importance of the personal touch is paramount. It shows that 67 percent of survey respondents in a managerial role said productivity greatly increases with personal discussions rather than the current mode of email.
"Personal discussion is the foundation of communications. Once this foundation is established, it enables all of the other forms of communication. Having a personal connection builds trust and minimizes misinterpretation and misunderstanding."
Once you have someone's contact information, go beyond canned email templates. Give a personal shout out and arrange a meeting. Follow up with leads using the channels they use. Give them information about not only the home, but the neighborhoods they're interested in.
2. Segment Emails by Age, Location or Interest
Divide and conquer. Go beyond sending emails to all your clients and leads. Segmentation is much more effective. Categorize your leads into groups and segments so you can send highly targeted emails based on their interests. Email still works because it's so personal.
The more accurately you segment, the more personal you can make the experience. Optimize your emails by targeting age, location, or interest to connect more deeply. Target the right people, with the right message, at the right time. Your worthwhile efforts will be appreciated by your recipients.
3. Use Targeted Landing Pages
Dedicate your landing pages to a single purpose. Sure, your homepage is a great source of information about your business. But this isn't always the best place to send a hot (or even a warm) lead.
Dig deeper into their experience. Find out what your visitors expect to see when they click through. Optimize your pages for them by including that content. Direct them right to a page containing the property types they want. This kind of experience is much more personalized and effective. You're providing value because your leads won't have to hunt for the listings they want.
4. Get on a First Name Basis
Set up your email responses to include first names in the email subject line. Go beyond and build rapport by also mentioning your client's name in the body of the email. Connect their interests, their list of requirements for their future home, and more.
5. Make Yourself Unforgettable
Becoming unforgettable requires remembering others. Just like in your personal life, sending a card or an email on important dates shows people that you care. Make a list and set reminders. Go beyond just birthdays – think about sending a card on the anniversary of a sale or a welcome back to school message when the time is right.
Reach out to past clients and show them that they mean more than just another sale. Consider including a prepaid coffee card with your note. Simple gifts like than can help you stand out in their mind over time. Include your personal branding and reinforce your unique qualities to differentiate yourself from other real estate agents.
IDX Broker is Here For You
We know sometimes an article link just isn't enough. That's why we've dedicated resources to provide amazing technical support. You can choose to send us a quick email or call us at 800 421-9668. We have friendly, knowledgeable support for you from 6am to 5pm Pacific time, 5 days a week.