The ABCs of real estate – Always Be Closing. Attracting visitors to your site is a great start. First get them to visit, then ask for the sale. You'll need a compelling call to action to convert visitors into home buyers. Here are 4 solid ways to optimize your call to action.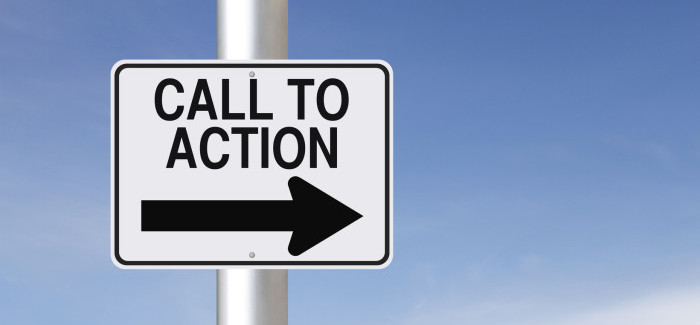 1. Talk Like a Buyer
Know your audience and talk like they do. Be mindful of 'agent speak'. Remember, your visitors aren't exactly real estate agents, so they won't know the lingo. Break down complex ideas into common terms. Use everyday language your potential buyers can relate to. Terms like IDX or MLS may have significant meaning to you, but your user may be stuck wondering why they need to search through some sort of Major League Soccer feed.
2. Be Creative
A simple button with a call to action like 'Sign Up Now' may not be the most attractive option for your visitors. Let them know why they should click. What will they get out of clicking? Offer something simple, provide some kind of incentive to encourage someone to sign up. Try providing a downloadable e-book for people who register, or a useful guide they can reference later.
3. Offer Targeted Content
Get relevant. Get real. Potential buyers are constantly showered with irrelevant sales content. Stand apart by providing value. As your visitors look for a property that fits their needs, position yourself as the agent that brings them home. Give them what they're searching for by using niche neighborhood pages, providing data on local schools, offering polygon map search, etc. If you can provide them with an individualized experience that delivers properties targeted to match their wants and needs, they'll be more willing to work with you.
4. Find the Sweet Spot
When you really want those leads, it's tempting to be aggressive about capturing them. Unfortunately, if you completely close off your content, your visitors may just flee to a more accessible site. On the other hand, you don't want to just give everything away for free, since that might cost you the lead. It takes some finesse, but play with messaging that clearly explains the benefit people receive by entering their contact information – and capture that lead!
Market your site, bring in the visitors, and convert those to leads. Finesse your messaging, see what works best for your audience, and always be closing.
[iconbox type="1″ newtab="true" icon="fa-phone" url="http://www.idxbroker.com" heading="Call For Support"]In addition to attracting users with content and added value items, we recommend checking out your
IDX Broker lead management settings
and adjusting this every couple of months to get your desired results. If you have any questions, give our Support Team a call at (800) 421-9668.[/iconbox]