Ugh, the bane of the business world, especially if you are in business for yourself…paperwork. Frank Zappa goes so far as to say, "It isn't necessary to imagine the world ending in fire or ice. There are two other possibilities: one is paperwork, and the other is nostalgia." Instead of hastening the end of the world with a paperwork apocalypse, here are some tips to tame the beast. IDX Broker brings you 7 tips to eliminate paperwork clutter. You might even reduce papercuts while you're at it.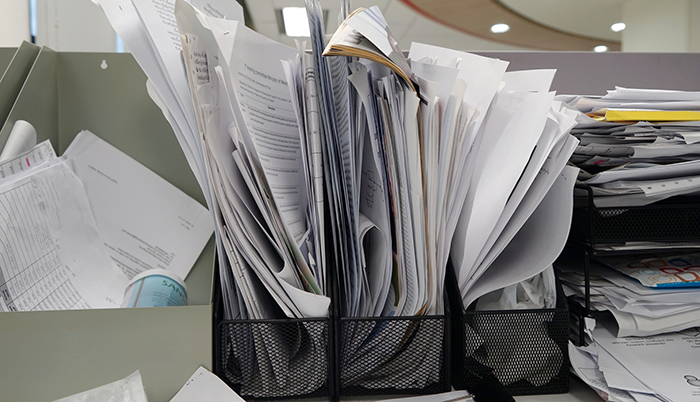 1. A Time to Sort
Choose one time each day to sort through your paperwork. Stick to this schedule and don't touch the paperwork more than once. Don't be tempted to go back over and over this paperwork. Once you've set aside this time, stick to it, don't add time and don't neglect it.
2. All That's Fit to Print
Are you one of those people that sees a great article online and then has to print it to read it later? That's right, I said one of those people.  Please tell me you aren't printing this now. If you find an article that you need to read, bookmark it, or pin it. There are plenty of options available to let you read this at a more appropriate time. Save it and read it on your tablet or phone or come back to the desktop to finish it up. No reason to kill a tree and that last empty place on your desk.
3. Scan and Toss
The other side of the coin is existing printed documents. It may be time to go through these and decide whether or not you still need to hold on to them. A lot of documents you may need for posterity, but some of these are just as useful in electronic format. If this is the case, simply scan them in, throw them on a cloud service and trash the original. Now you won't lose them and they won't take up space on your desk that you need for that desktop golf set.
4. Automate
In this modern age we have the convenience of paperless billing and e-alerts. Heck, when I pay my barber I get a text message receipt. If you can avoid the flurry of paperwork from the bank and your service providers, do it. It's much easier to have an email folder to collect the documents than trying to file the documents as they come in. If you can automate a payment or get anything paperless, it will make your life easier.
5. Evaluate Readings
Will you ever get to reading that subscription? If not, cancel it. Electronic or physical, newsletters and periodicals that you don't read are needlessly distracting. I know that I've had a lot of materials that I've been meaning to read, but if it's been sitting in my office for months and I have yet to crack it open, it must not be that important. Know when to let it go and move on. You will always have reading materials waiting for your precious time.
6. Categorize
If it's important file it appropriately. In the TV show M*A*S*H there was the Radar filing system and the Klinger way. Radar could find paperwork before it was even asked for and Klinger had papers strewn all over the office. Seeing as you may actually want to locate your papers some day, please be a Radar and not a Klinger. During your scheduled sorting session, make sure that you stick to an easy filing system. Put the papers away properly the first time and then don't worry about them anymore. This will save you a lot of time in the long run.
7. Receipts
I often stick receipts in my wallet or leave them with the packaging that came with the purchase. This only leads to my wallet looking deceptively full or my car being littered with "ticker tape". No good. Have an envelope or a shoe-box that can hold your important receipts as you gain them. For those that aren't important, just toss them.
The sweetest joy, the wildest woe is love. What the world really needs is more love and less paperwork.

Pearl Bailey
So there it is, organize your paperwork so that you have more time to spend on important things, like time with family, or playing "Words with Friends". I hope that you've found this useful and can file it away. If you have any other tips, please add them to the comments. Now I have to get back to other matters…if I can just find that paperwork.